Good Morning Lovely All About Us Readers!!
I am SO excited to be blog swapping with the lovely Miss Alisha here today!!!
This is my first blog swap with someone I've actually met in real life...
Which I think is exciting... haha.
Anyway... If you're really missing your Miss Alisha, she's posting over at my blog today as this week's Bloggie Bestie!!!
You can pop over and visit her here.

In the meantime, I'm Kassi from Truly Lovely with the Laney Sisters.
Truly Lovely is a blog written by myself and my younger sister, Miss Kayli, where we like to write about the things we find to be Truly Lovely.
That's me!
Many of those things include crafting, recipes, and just random posts... haha. But today I would like to share a Silhouette SD crafting tutorial with you... Let's just say, I LOVE this thing! There's SO much you can do with it...
Read Full Post
I had seen several versions of the Tile Coasters all over blogland...
And decided to make my own. They seemed like a fun, but inexpensive gift you could make for a friend or family member.
So... I busted out my trusty Silhouette and got to work!
The materials needed are:
4 square tiles (I bought mine at Home Depot for $0.14 each)

Scrapbook paper (about half a sheet for each set of coasters)

I used my Silhouette SD for the cutting, but you could use any stencil or hand cut the designs yourself...
I think in total the materials only cost me a couple of dollars
for each of the 2 sets of coasters that I made.
I made the first set of coasters for my friend, Katie.
I LOVE personalized things and TYPOGRAPHY, so I chose to use her name for one of the coasters. I used a cup with a straw from the free designs that came with my Silhouette for the other coaster.
I followed the same steps for the second set of coasters for my friend, Tess, except I used her name and the free wine glass that came with my Silhouette.
This is the screen shot of Katie's cutouts on my Silhouette screen.
I simply measured the tiles, decided the size I wanted for the squares, then used the square feature within the software to trace squares on my sheet.
The square feature shows you the measurements of each side of the square, so you know you're getting the size that you want.
*Tip: My square actually looked more rectangular on the screen, but measured out to be square... Then when they were cut, they were actually square...
After inserting the square, I inserted the cutouts (name and cup) then printed/cut the page onto the scrapbook paper.
Next I used the foam brush to brush a layer of Modge Podge onto the two tiles, then took my cutouts and placed them in the center.
*Tip: I used my bottle of Mod Podge as a sort of rolling pin over the papers to make sure there weren't any bubbles underneath.
I let those dry for about 15 minutes.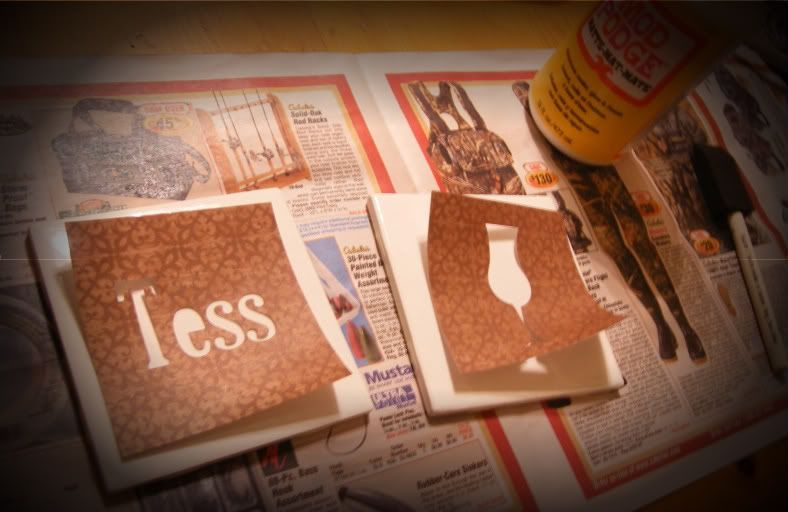 I brushed two layers of Mod Podge over the top of the cutouts on the tiles and allowed those to dry for 15 minutes each in between coats.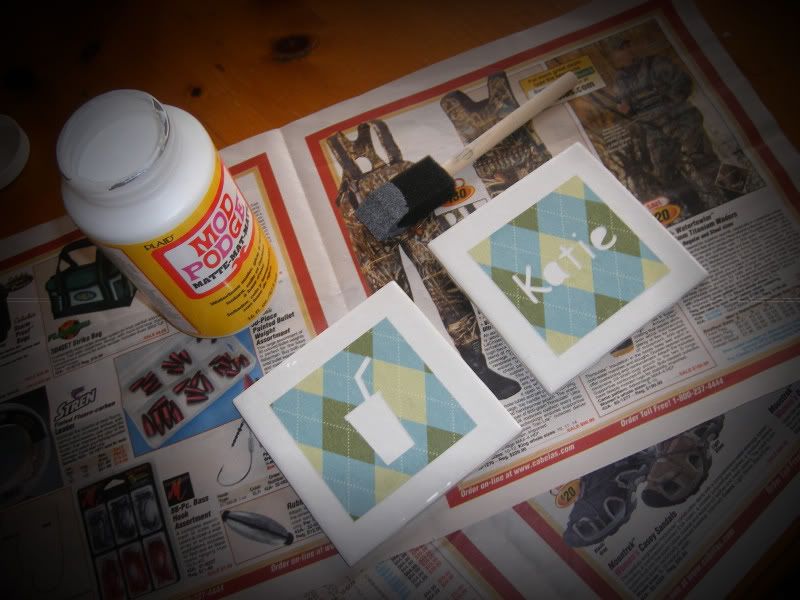 Once the second layer was dry, I sprayed two layers of the Mod Podge Sealer over the cutouts and tiles. Again, let them dry.
*Tip: The key to nice tiles is to let everything dry well in between applications. If you don't, that's where you'll get bubbles and uplifted edges!
For my last step, I cut out strips of matching felt and hot glued those to the bottoms of two of the tiles. The bottoms of the tiles are rough, so they felt serves as a protective barrier between them and the table surface they get placed on.
For the bottoms of Tess's coasters I cut out a full square of white felt.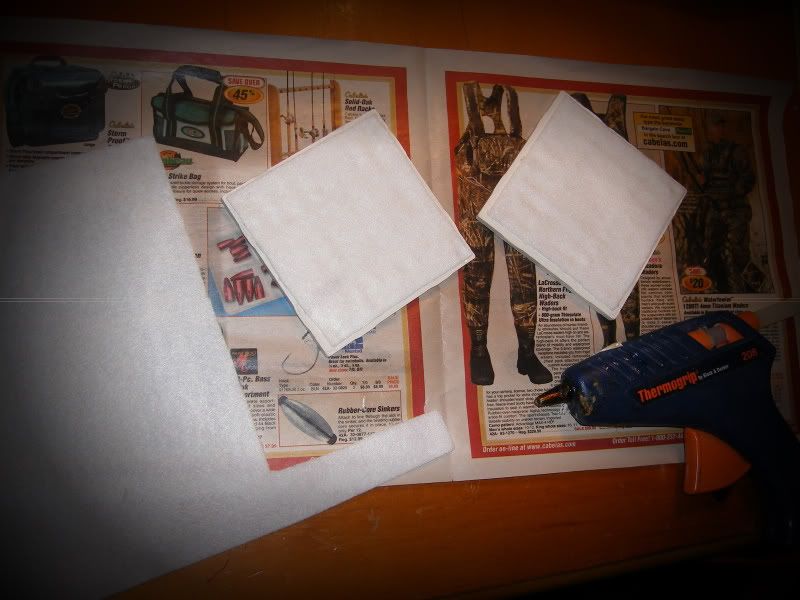 Here's Katie's coasters!! :)
What do you think??
I think they turned out so lovely!
Great for my first attempt! haha!
And here's Tess's coasters!!!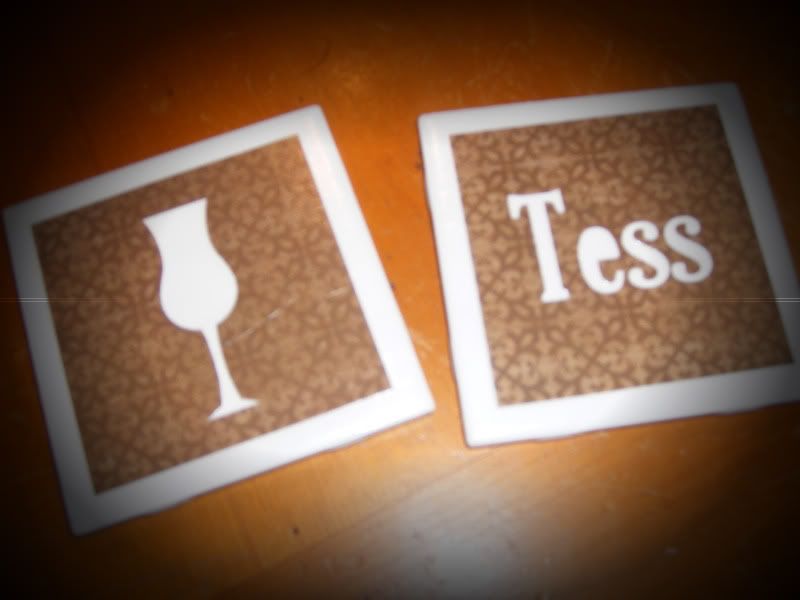 Sorry for the glare on that one...
And here in use...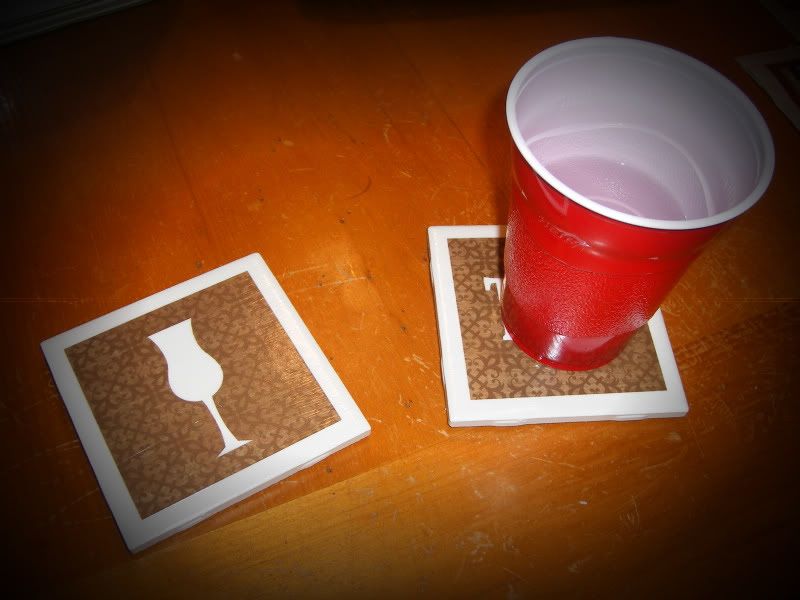 Now they will each have a set of their very own, personalized coasters!
I wrapped each set up in ribbon and tissue paper....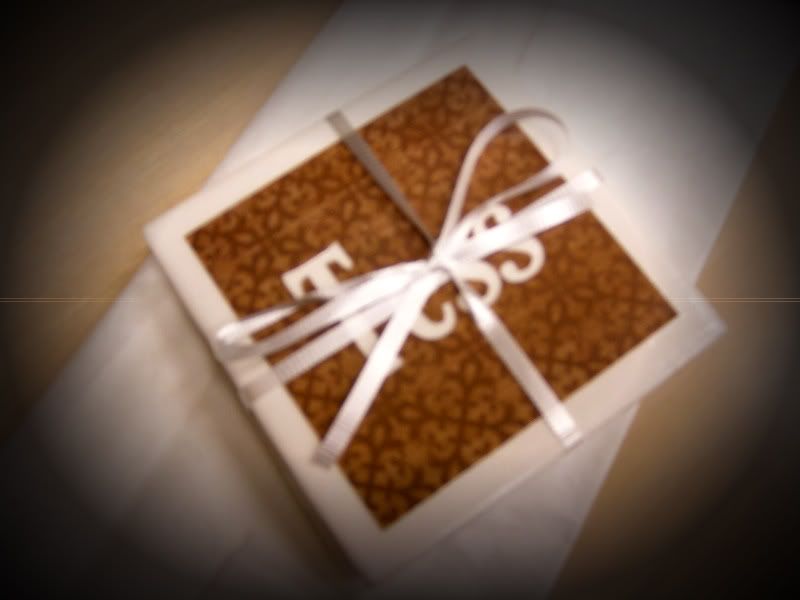 I found these perfect little boxes at the Post Office...
And they are on their way!!!
Two handmade gifts, that were inexpensive, but SUPER fun to make!
I hope you enjoyed my tutorial today!!!
Thanks so much to Miss Alisha for having me over!!!
If you attempt your own Tile Coasters, I would love to hear about it:
trulylovely.laney@gmail.com
Have a lovely day!!!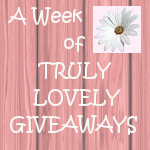 P.S. We have a WEEK of Truly Lovely GIVEAWAYS going on right now over at the blog... Day 1 has already closed and Day 2 will close this evening, but there are six giveaways total still open!!
SO, we would love for you to pop over there and get entered to win some lovely items!!! The links for each day are at the top of the left sidebar.
Thank you Kassi for your awesome tutorial!
It was great to be your blog bestie this week!